Summer Music Camp Staff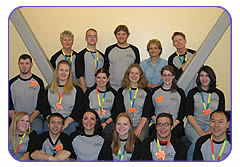 CAMP CRESCENDO has been very fortunate to have a core of counselors returning each year. This has enabled our instruction to have continuity and progression. Our counselors are carefully screened and chosen because of their musical knowledge, ability to motivate children, and the high standards they provide as role models. Our Camper/Counselor ratio is one counselor for every six campers which ensures quality instruction, understanding, and personal attention to each student. Some returning counselors are:


BENJAMIN TYLER SIMMONDS has a Bachelor of Arts degree from Linfield College in Music Performance and a Bachelor of Music degree from Boise State University in music education. Benji taught elementary music for four years in California and Idaho and is currently the choir director at Capital High in Boise, Idaho. Benji has been at camp since it began in 1990 and is now the Assistant Director of Camp Crescendo.
J.J. DION - Is an award-winning composer-entertainer, toured & recorded in Europe, and is an accomplished guitar, piano and bass instructor. A former Boise Arts Community "fixture", JJ relocated in '06 to be closer to his family in the Coeur d'Alene-Spokane area, where he performs at Retirement Homes, schools & churches. J.J. has never missed a session at Camp Crescendo. His recordings are available through his website: www.jjdion.com. He also has several videos on "youtube"!

CAROLYN STOVALL received her Bachelor of Arts degree in Physical Education from San Jose State. Carolyn recently retired after a 36 year career as a P.E. teacher. Carolyn is the Camp Crescendo Activities Director and it will be her eleventh year at camp.

JOIE GRATTON received her Bachelor of Arts degree in music education and Spanish at Willamette University. She received her master's degree in music performance and was a graduate teaching assistant working with pre-student teachers at BSU. She is currently the choir director at Skyview High School in Nampa. This is Joie's eleventh year at Camp Crescendo.

GENE CHIN hails from Penang, Malaysia and is completing his doctoral studies in Vocal Music Performance and Music History from the University of Oregon. Gene is also teaching private voice at the University. He received his master's from the "U of O" in 2004 and his bachelor's degree from Linfield College, in 2001. This is Gene's sixth year at Camp Crescendo.

BECKA LAING is attending Boise State University with a major in mathematics and secondary education. She is currently on the BSU Flag Corps and led the Boise High color guard and dance team as well. This is Becka's fourth year at Camp Crescendo.

JULIA GROVER is attending St. Olaf College where she is majoring in Music and Theatre, but hopes to go on to elementary education. She is in Chapel Choir, one of the top collegiate choirs, a Residence Life staff member, and actively participates in departmental and student produced theatre on campus. This is Julia's fourteenth year at Camp and her third as a Super Mega counselor.

REBECCA HOMARD is from Des Moines Iowa. She is attending the University of Northern Iowa majoring in Music Education. She plays violin and viola and has worked with youth and music in a number of settings. This is her third year as a Super Mega at Camp Crescendo.

NATALIE STRONG is attending the University of Idaho. She is a Marketing, Fashion, and Textiles Major and hopes to own her own clothing store one day. She started playing the flute when she was in the 6th grade and continued to play for most of her high school career. Natalie loves music, but what she's most passionate about is theatre. This will be Natalie's third year at Camp Crescendo.

JOSH OWEN is attending Idaho State University. He has been a percussionist for many years performing in bands, orchestra ensembles, and many percussion ensembles. This is Josh's third year as a Camp Crescendo counselor.

MICHELLE SIMMONDS is a first grade teacher at Lincoln Elementary in Nampa and has been teaching there for the past 6 years. Before coming to Nampa and meeting the man of her dreams, she was teaching Pre-school for Easter Seals in Missoula, Montana. This is her second year at Camp Crescendo.

AMY STUTZNEGGER is a music education major at the University of Utah. Amy is in A Cappela Choir and Flute Choir at the University. She plays the piano and has also had many years of dance. This is her second year at Camp Crescendo.

ANDREA SOUZA has a bachelor's degree from Northwest Nazarene University in Music Education and Music, with emphases in Piano and Music Theory. She has taught music at Eagle Elementary School for three years, as well as one year of elementary orchestra. She loves to dance, sing, play piano, and hike. This will be her second summer at Camp Crescendo as a Super Mega Counselor.

KELSEY LANGE is a student at Linfield College. She is majoring in elementary education and music. She is actively involved in choir at Linfield as well as private vocal instruction. Kelsey has attended Camp Crescendo for many years as a camper, and as a Jr. and Sr. Counselor. This is her tenth year at camp and second year as a Super Mega Counselor.

JEREMIAH BUAL is a student at the University of Oregon. He is on the pre- med track majoring in Biology with a minor in Vocal Performance. He is a member of Delta Tau Delta fraternity as well as University Singers an auditioned choir at the U of O. Jeremiah has been at camp as a Jr. and Sr. Counselor, and now for a second year as a Super Mega.

WES SIMMONDS attends Covenant College in Georgia. He is majoring in sociology as well as working on a minor in music performance. He has been at Camp Crescendo for thirteen years as a camper, and as a Jr. and Sr. counselor. This is his second year as a Super Mega Counselor.

JEFFREY PETERSEN is a graduate of Albertson's College. He is currently in Eugene working on his masters at the University of Oregon. This is Jeff's third year as a Super Mega Counselor.